Warehouse Market
Recipes
https://www.warehousemarket.com/Recipes/Detail/6087/Roasted_Pork_Shoulder_with_Grilled_Peaches_and_Peach_Glaze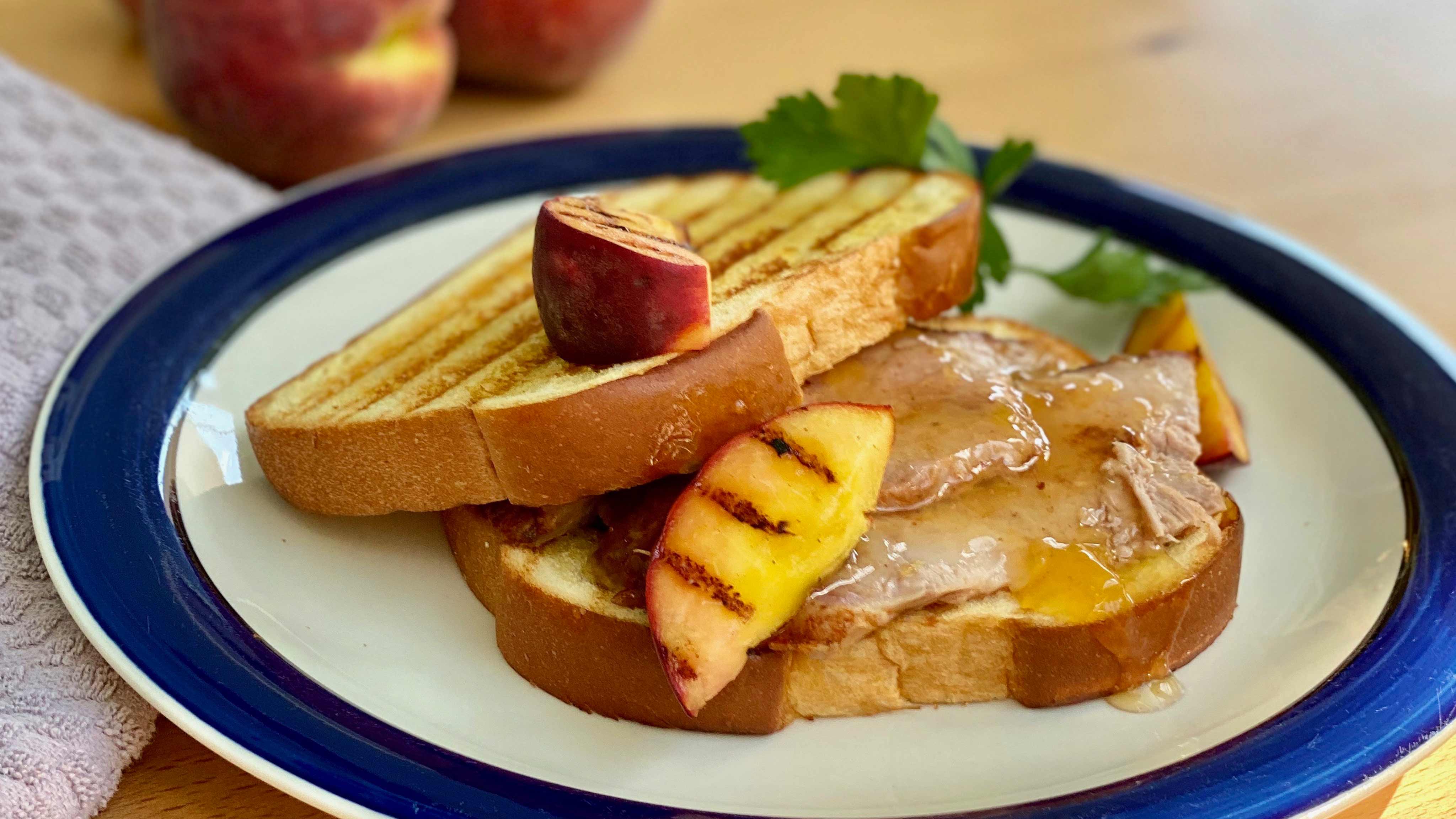 Roasted Pork Shoulder with Grilled Peaches and Peach Glaze
Customer Rating:
not rated
0 Ratings 1
Yield: 6 servings
Ingredients
Pork Injection:

1/2
cup

peach nectar

1/4
cup

water

2
Tablespoons

brown sugar

1
tablespoon

sea salt

1/2
teaspoon

Worcestershire sauce

1

(4.25 pound) bone in Boston butt (pork shoulder roast)

Spice Rub:

1
tablespoon

peach flavored gelatin powder

1
tablespoon

brown sugar

1
tablespoon

dried oregano

1
tablespoon

sweet paprika

1
tablespoon

chili powder

2
teaspoons

garlic powder

1/2
teaspoon

Old Bay Seasoning

1/2
teaspoon

cayenne pepper

Basting Sauce:

1/3
cup

peach nectar

1/3
cup

apple juice

1/3
cup

water

Peach Preserve Glaze:

1
cup

peach preserves

2
tablespoons

apple cider vinegar

1/4
cup

water

Grilled Peaches:

3

ripe peaches, cut into wedges

Brioche Toast:

12
slices

brioche

2
tablespoons

softened butter
Directions:
Pork Injection:
Place 1/2 cup peach nectar, 1/4 cup water, 2 tbsp brown sugar, sea salt and Worcestershire sauce in a small saucepan and bring to a boil; reduce heat and simmer until the dry ingredients are dissolved. Let mixture cool.

In the meantime, using a sharp knife, cut slits 1 inch apart in a crosshatch fashion in the fat cap of the meat, taking care to not cut through to the roast. Inject cooled mixture into pork. Cover and refrigerate for 2 hours or up to 12 hours.

Rub:
In a small bowl stir together 1 tbsp peach gelatin, 1 tbsp brown sugar, oregano, paprika, chili powder, garlic powder, Old Bay and cayenne pepper. Rub all of the mixture into the surface of the pork.

Baste:
In a small bowl, stir together 1/3 cup peach nectar, apple juice and 1/3 cup water.

Meat:
Place oven rack on lowest postion and preheat oven to 325 degrees F. Place a rack in a roasting pan and spray with nonstick cooking spray. Place roast on rack fat-side up. Pour 1 quart of water in the bottom of the roasting pan.

Cook roast for 4 hours until temperature reads 190 degrees using a meat thermometer (be sure to not touch the bone). Baste twice during the cooking process.

Remove roast, place on a carving platter and tent loosely with aluminum foil. Let rest for 1 hour.

With a sharp paring knife, cut around the bone and slice roast.

Peach Glaze:
Whisk together peach preserves, cider vinegar and 1/4 cup water. Set aside.

Grilled Peaches:
Spray peach wedges with nonstick cooking spray. Heat grill pan over medium heat. Place peach wedges on grill pan and cook on both sides until grill marks are present.

Brioche Toast:
Butter one side of each brioche slice with butter and toast both sides of bread over medium heat on a grill pan to make grill marks.
To serve, place serving of pork on top of brioche. Top with peach glaze and grilled peaches.
Adapted by a recipe from Chef Adam Perry Lang and Cook's Meat Book

Photo and food styling by Webstop
Please note that some ingredients and brands may not be available in every store.
Warehouse Market
Recipes
https://www.warehousemarket.com/Recipes/Detail/6087/